Reviews by CraZyJunior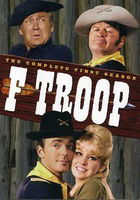 Posted : 11 years, 10 months ago on 2 September 2006 08:21 (A review of
F Troop - The Complete First Season
)
I really like this show, It made me laugh alot. This show is a must buy. I recommend it if you like really funny shows and classic shows. It is in black & white and some of the jokes are corny...But don't let that stop you, They also have indians. Check it out.

0 comments,
Reply to this entry
Posted : 12 years, 9 months ago on 20 October 2005 04:37 (A review of
Nip/Tuck: The Complete First Season
)
This season is great. If your into drama this show is for you. This show has some wonderful characters that you will like or disklike. The surgery are okay and some people might not be able to stand it. This season is good and introduces you to the characters. There is alot of sex in this show though they do not show anything and they always cover up but you can tell what they are doing. This series is not for kids. This show is my favorite and I would recommend it to anyone who just wants to sit down and watch a great show and enjoy drama. AA+++ Get season two also if you enjoy season one. I got season one and two and am enjoying them. The ending to this season is GREAT!!

0 comments,
Reply to this entry